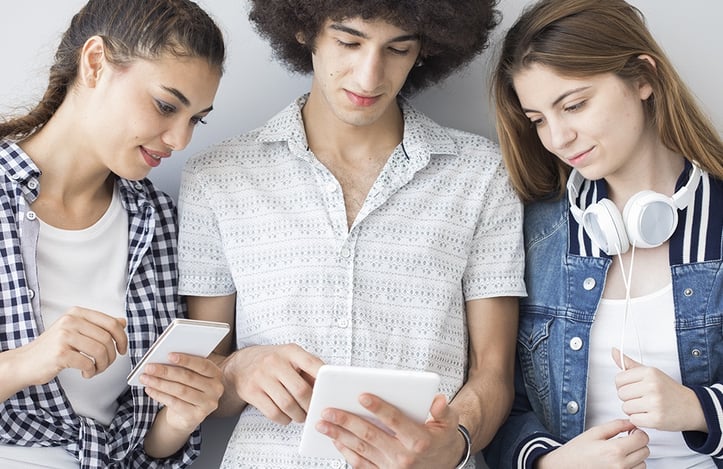 GCSEs have come and gone. The latest generation of school leavers have collected their results and are moving on to pastures new… which mean they'll be trying their hand at finding work.
Which begs the question…is the workplace ready for Generation Z?
---
Now, we all have preconceived notions of a conventional workplace. But to multiple generations, that convention becomes a more fluid. Every generation comes with its own rulebook, and Generation Z is no exception.
Generation Z – characterised as people born from the mid-1990s to the mid-2000s – have grown up in a world moulded by 9/11, social media, the Great Recession and Brexit. This has resulted in a grouping of people with a greater regard for privacy, and highly competitive with a mindset driven towards meeting immediate goals.
But Generation Z are going to require a few things if they're going to bring their A-game to the workplace. So, when you're next scouting for promising young talent, these are a few pointers to bear in mind at the recruitment stage.
Technically In tune – Much like the Millennial generation before them, Generation Z have had access to all the latest technology right from an early age. A Wikia study revealed that 25% of people belonging to Generation Z are connected to some form of online platform within 5 minutes of waking up, while 73% are connected within an hour or less. You might want to consider looking at how your prospective job roles can integrate technology, the platforms Generation Z frequently use, the surfing techniques they have picked up, taking their strengths and making them your strengths.
The Value of Flexibility – The 9 to 5 model is fast becoming a thing of the past. A conventional working day may not necessarily bring the best in a Generation Z worker. They would prefer to work under a more flexible timetable which could range from access to familiar technology to which will allow for greater productivity and a more rewarding end result.
The FOMO epidemic – Many people in Generation Z have developed what some have come to call FOMO (Fear of Missing Out). Part of this can be attributed to many things, including the social scene and opportunities in a restrictive economical time. This is shown in the working environment they typically seek out; organisations with a strong company culture and face-to-face dealings with their employers. They want to feel like they belong somewhere, that they're contributing to something, and ultimately, they're not missing out.
It is estimated that by 2025, Generation Z will make up 30% of the workforce. They will have a pivotal role to play in shaping the UK economy. And we need to make sure they are ready for that.
Now you know how to attract Gen Z why not take a look at how to attract Millennials.