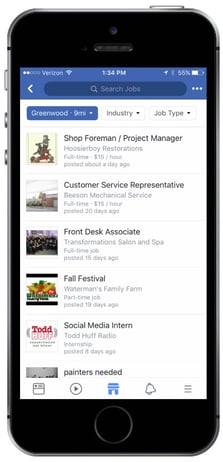 Once-upon-a-time Facebook was simply a place to connect with old friends, share funny videos and get your fill of the latest gossip.
With 39.2 million of Brits having an account on the worlds largest social platform, Facebook remains one of the nations favourite pass times for those very reasons. However, in just a few short years the Facebook platform has evolved into something much more.
In 2018 Zuckerberg and co were dealt a major blow when the Cambridge Analytica scandal thrust them into the limelight for all of the wrong reasons. Since then, Facebook have worked tirelessly to restore trust and improve user experience. We've seen the implementation of Facebook Live, Stories, Marketplace and now...Jobs on Facebook.
This new, free feature allows recruiters and HR professionals to post their vacancies across the platform targeting local passive people who aren't actively searching job boards for vacancies.
Functionally the Jobs on Facebook tab looks and feels much like a job board. Candidates who visit the Facebook tab are able to search and apply for vacancies directly from within the application without having to navigate to a third party site such as a job board or career page. Here's a quick user guide to use and post jobs to the Facebook platform.
---
---
How to use Jobs on Facebook
For Recruiters -
Simply upload your job advert with the standard information such as job title, contract type, salary and location. Recruiters can also add in pre-screening questions as they would on their favourite job boards.
Once posted the job advert will feature :
On the "Jobs" tab on Facebook's Marketplace
The company's business page
The company's news feed
On the jobs dashboard at facebook.com/jobs
For Candidates -
Candidates can search for opportunities by visiting the jobs tab and keying in their desired job title and location. Upon clicking "apply now" a pre-filled form will appear which contains information given on the candidates profile. Candidates simply answer any pre-screening questions and confirm their name, contact details, professional experience and education. There are no diversions to third party sources to ensure the process is as simple as possible for candidates.
How to post a vacancy to Jobs on Facebook
There are two ways in which you can post vacancies to Jobs on Facebook. Either manually or by using an ATS provider that's already integrated with Facebook.
Jobs on Facebook is free. And for business' who only recruit a handful of times a year the manual option could be more effective than utilising a paid for software.
However, if you find yourself continuously advertising, in particular for mid-low skilled roles using an integrated ATS could save you countless hours. Jobs can be distributed from your ATS to Facebook instantly and all applications will filter back into the system allowing you to manage centrally and measure performance.
Facebook integrated Application Tracking System
Talentvine are one of the UK's first Applicant Tracking System providers to successfully integrate with Jobs on Facebook.
Built with an open architecture our recruitment system is able to connect with numerous third party platforms including; HR systems, Programmatic Bid Management technology and an industry leading recruitment reporting system. Learn more about Talentvine's Applicant Tracking System here.