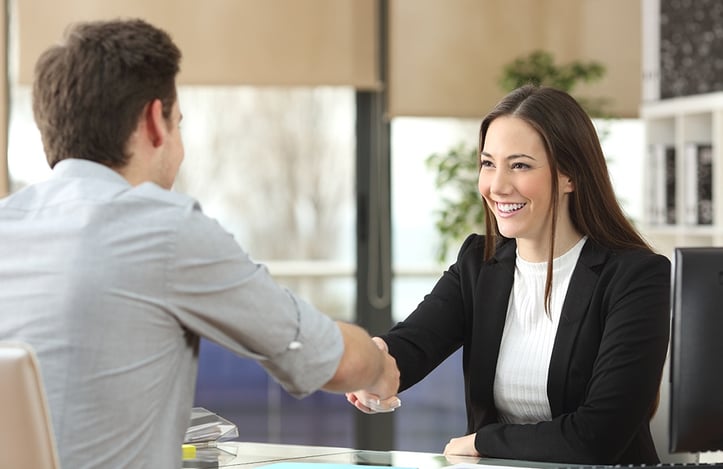 It is a general rule of thumb that the first day of anything new is always the hardest… with a week or month tacked on depending on the context. And a new job is no exception. Take a look at our top tips to helping your new hires succeed.
Entering a new job can be very daunting for some people. They want to make sure they make a good impression, get on with the job without much agro and earn their place in the office…Essentially, it's a bit like entering the lion's den.
The first few weeks are crucial to setting the bench mark of employee experience. O.C. Tanner revealed that 69% of employees are more likely to stay with a company for at least three years if they have a great onboarding process.
Here's our tips to help your new employee(s) succeed at your company.
Match the Experienced with the Inexperienced – When learning the ropes, employees need a guiding light to see them through the first few weeks… but seeing as how most jobs don't come with a torch, you'll have to make do with an experienced co-worker. Someone who has been with the company for a lengthy period and knows the ins and outs of the business can help the new hire settle and adjust to their new settings.
Help Them Set Workable Goals – With a new employee comes a new set of aspirations to manage. Now, nobody walks into a workplace expecting to wake the next day a CEO. But, as early as the interview stage, you should get a sense of where they will fit in your company. Consider how you can develop them over the course of the first year, what they would like to do and where they would like to be.
Be An Ever Present Boss – The typical day of the manager is going to be quite demanding, but it wouldn't hurt to put a bit of time aside to make yourself available to the new employees to check on how they're settling in.

Encourage Feedback – As already stated, the settling-in period can be a difficult time for new employees. They're still trying to get a grasp of what they're good at, what they struggle with and how long they are likely to stay with your company. Ensure they have a good channel for providing you with feedback. That way, if any issues do pop up in the early days, you can work with them to amend them long before they have any impact on the business.
---