Implementing new software into the business can be a daunting task for anyone, particularly if you're new to the technology and/or provider. In most cases technology is implemented to augment and enhance human performance however as a race, us humans are often sceptical to change!
For a new implementation to be a success it's critical that the employees who will be using the software have bought into the technology and ideology behind the change. Although the benefits of change are high, so too are the stakes. With poor change management having the potential to detrimentally impact morale, performance and productivity it's critical that it's managed correctly.
To help you to get off to a winning start we've put together our 5 top tips to implementation success!
1. Communication is key
Don't let rumours fly around like Chinese whispers! Be clear from the start about the change and why the change is required.
Being open and transparent from the start can help to protect morale, install respect and with enough prior warning ease the minds of employees. The last thing you need is a team of people going into meltdown overwhelmed by the change or even thinking that they're going to be replaced by a machine!
Use this opportunity early on in the process to motivate employees. Point out the USP's of the solution and how it can help them in their role. A PWC report on technology at work found that employees were much more receptive to new technology if there was a direct benefit to them.
The 'What's-in-it-for-me' effect is crucial to winning employees over from the start. From the report the three main motivators were:
| | | |
| --- | --- | --- |
| 37% are motivated by the possibility of the technology helping them to advance their career or gain status. | 34% are curious about the promise of better efficiency and teamwork. | 29% would be most interested if the technology helps them do their own work more easily and within a predictable environment |
2. Involve all stakeholders in the decision
To avoid friction it's a good idea to involve employees who will be using the system in the decision making process. Ask stakeholders what challenges they're currently facing and what features they'd like to see from a new platform.
Using feedback to identify a solution that aligns with employees wants and needs can make employees feel as if they've played a vital role in the software selection. Employees love to feel valued and that their input has been appreciated. By utilising this method you can drive employee engagement, productivity levels and of course adoption rates.
3. Focus on the core functionalities
We all have a wish list of what we'd like from a new software provider however too much functionality can negatively affect user experience. Carefully consider your options and prioritise ease of use over bells and whistles.
Users want systems that are simple to use and easy to navigate. Spending hours of time on training sessions or FAQ pages can sap at both patience and productivity.
Look for easy to navigate systems where core functions are only ever a few clicks away. If the systems requires multiple clicks to retrieve an answer or complete a task then the system isn't likely to be embraced or used to its potential. Poor usability can create disruption and you could end up with a line of disgruntled employees demanding for legacy systems to be re-instated.
4.Manage the Change
Most people don't like change it's in our inherent nature. Ensuring a smooth transition to a new system can help to ease tension and is critical to perception of the new system.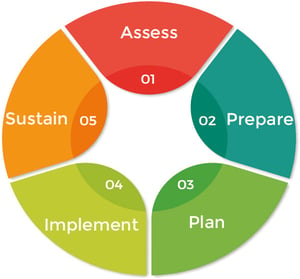 Fail to prepare, prepare to fail. Before going ahead with implementation it's important to map out a change management plan to ensure the before, after and during runs smoothly.
A HR System survey by Sierra-Cedars found that HR departments that support a culture of change management are 10x more likely to be viewed by leadership as contributing strategic value. However, only 27% of respondents said that HR invested heavily in change management.
5. Encourage feedback
You've done it. Everything has gone to plan and you've successfully embedded your new software into the business, it's great and your employees love it. But hold on, you're not quite finished yet...
To ensure the continued success of the project and prevent any negative stigma from building, open communication and feedback are key.
Transparent communication is often key to happy working relationships and promoting honest and open feedback can help you to quickly address any software hiccups that could otherwise be blown out of proportion.
---
Need help identifying the best recruitment software for your business? RFP's can help you extract the answers you want from software vendors without spending hours of your time individually collecting information and sitting through product demonstrations. Save time on the selection process with these helpful tips.