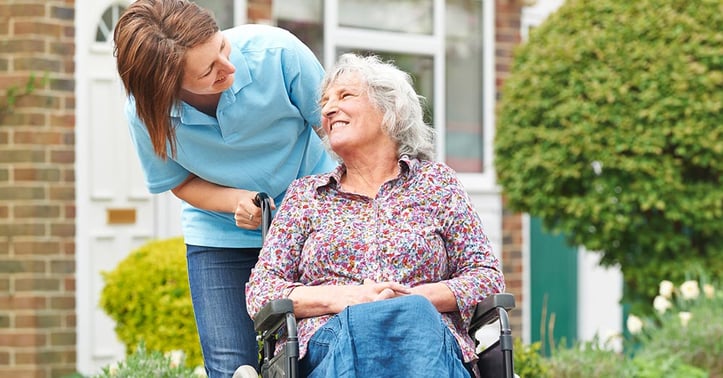 In this article, we examine the Care industry, staff turnover, the recruitment challenges faced by Care companies and how to overcome them and hire successfully.
With over 25 years' experience in the recruitment industry we have become Care industry recruitment experts. Along the way we've helped many Care providers of all different sizes achieve their recruitment goals. Just a few of our partners include Mears Care, Crossroads Care and Ark Health.
Care Overview
The Care sector employs 1.45 million people as of 2016, a 1.5% increase since 2015. Collectively, the independent UK healthcare sector is worth £45.4 billion.
Given the size and scale of the Care sector, it is crucial that recruitment practices are the focus of all employers. The sectors turnover rate is a testament to the need to focus on the recruitment angle; The skills for Care figures show that the industry has a staff turnover rate of 27%, which is nearly twice the average for other professions in the UK according to a BBC report.
One of the most pressing issues is the turnover of existing employees. The National Care Forum (NCF) ran a survey revealing that 65.5% of the social care workforce left their jobs within 2 years. The BBC reported that 900 Carers quit every day in the UK. These frequent bumps in the road can be very damaging for a company's finances.
The Top 4 Common Recruitment Struggles
It is becoming ever more challenging to hire in the care sector as publicised of late by the soaring rise in NHS vacancies and the inability to fill their roles. Here are some of the challenges currently facing Care companies and how to overcome them.
Challenge 1: Talent Attraction
Attracting talent consistently can be a challenge, in the Care industry the next bout of recruitment is never too far away. Ensuring you receive a constant stream of candidates can reduce the amount spent on hiring campaigns.
The Solution: Career Site
By having a Career Site you are able to capture more relevant candidates. In fact, employers with a strong talent brand drive 2x more applicants per job compared to other companies. Having a Career Site that conveys your employer brand reduces recruitment spend. Businesses with a strong employer brand see a 43% decrease in cost per hire.
Would you like to attract more talent through a Career Site? Talentvine build and create fully content managed Career Sites that mirror your website.
Our Career Sites support all of your imagery, videos, documents and other resource into the page content. From the site, applicants can apply and subscribe to a custom feed of vacancies that match their search criteria.
We've recently built a career site for a large UK Care organisation who are already benefiting from reduced recruitment spend and higher attraction rates.
For more information on how our Career Site can help you attract more quality candidates to your business please get in touch today.
---
Challenge 2 : Poor Applicant Response
Many Care companies are still using traditional methods such as newspaper advertising to try and fill their vacancy. In the past, the newspaper would be the first place a candidate would visit to look for a job. This is no longer the case. To boost response rates you need to think like a modern candidate and advertise where they're most likely to hunt for jobs.
Two Possible Solutions
1) Job board Advertising
Most job seekers use job boards to find their next career move. Job boards guarantee to give your vacancy maximum exposure. Some job boards are completely free to advertise on; however, the most sought-after job boards can cost around £100- £200 pounds per board for a 28-day posting.
Many of our Care clients choose to advertise on a number of job boards to attract as many high- quality candidates as possible.
Talentvine's job posting service has enabled many Care companies to successfully recruit from as little as £249. With such a high industry staff turnover rate creating a talent pool is vital. As part of the package we provide you with a free Applicant Tracking System to manage all applicants from application to hire in one place. You can dip back into the system as required and hire as many of your applicants at no additional cost. To find out more about our job board services please get in touch here.
There are lots of opportunities in the UK to expand into demographics with ageing populations. However, finding employees to keep up with demand can be the most challenging part. Finding talent in these areas may seem impossible at times. But here's how you can remove this challenge and hire with ease.
2) Sponsored Campaigns
Another way to set your brand aside from competitors and attract more relevant candidates is by using sponsored job board advertising, also known as "pay-per-click advertising". Sponsored campaigns allow your advert to appear at the top of a candidate's job search on certain job boards. The best part is you only ever pay for performance.
One of our clients in the Care sector recently used sponsored advertising to attract candidates for a renowned hard to fill location, read their case study here.
---
Challenge 3 : Difficulty Managing Response
Many Care companies find it difficult to analyse what's working best for them. Where are the bulk of your applications coming from? Are they coming from walk ins, newspaper adverts or online job adverts?
Previously some of our Care clients were using spreadsheets to track their response. This method simply wasn't sophisticated enough to analyse performance accurately.
The solution: Applicant Tracking System
By using an intelligent Applicant Tracking System you will be able to manage and track all applicants in one place from application stage to job offer. Through a good ATS you should be able to shortlist key candidates to Hiring Managers and analyse performance, allowing you to identify and focus on what's working best for you.
Talentvine provide intelligent user-friendly recruitment software from as little as £85 per month. To find out more about our recruitment software click here.
---
Challenge 4 : Cost Per Hire
Hiring cost is a major challenge with such high staff turnover rates in the industry. As mentioned previously 65.5% of care staff leave within 2 years. To combat cost per hire their needs to be a clear emphasis on delivering a steady stream of candidates. Stop and stall recruitment can make hiring more expensive. Do you know what advertising methods are really working best for you?
The solution: Applicant Tracking System
As with challenge 3, Applicant tracking systems can help you lower your cost per hire. A good ATS will allow you to identify any bottle necks in your current process. Furthermore, an intelligent ATS will have a clever reporting tool that allows you to make data driven decisions about the best advertising source for you. Ask about our Applicant Tracking Systems today.
Talentvine are leading the way in Care recruitment, with our wide array of recruitment solutions. We've helped lots of care companies including the likes of Mears Care, Crossways Care and Ark Health achieve their recruitment goals. If you would like any further information on how to increase response rates, reduce hiring costs, improve candidate management and enhance attraction then please feel free to request more information today.